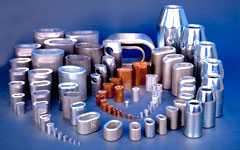 ¡ñAlloy suppress end is used in Europe, or working conditions than the normal circumstances of use, We provide 1mm to 94mm diameter wire rope of the aluminum alloy pressure head in accordance with DIN3093 standard at any time according to the customers¡¯ request.

¡ñCrimping irons are used in USA or the harsh environmental conditions of the situation (such as high temperature, acid-base erosion, etc.). We also provide the diameter 1/4"~6" iron press end of the steel rope according to the customer¡¯s request, with full inventory available at any time.

¡ñWe also supply other fittings such as copper, stainless steel and other special steel cables and a variety of structure cables.